Rug Cleaning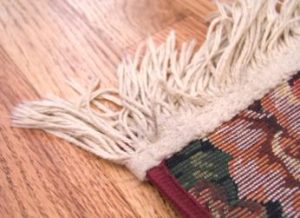 Your favorite rugs are priceless. That's why we utilize custom designed cleaning equipment, climate controlled dry room, and computerized rug tracking to ensure the best results every time. Columbus and Dublin, OH residents trust us with professional rug cleaning services.
Please watch this brief RUG CLEANING VIDEO before allowing anyone to clean a valuable rug.
Pre-inspection
It all starts with a thorough inspection. We carefully hand-inspect for tears, holes, dye fade, abrasions, pet stains and areas that call for special attention. All rugs are tested for color fastness to ensure the dyes will not bleed.
Dry Soil Removal
The most important step. The rug duster gently removes loose soil, allergens, dust mites and grit. This greatly improves the indoor air quality of your home and the health of your family. Additionally, having all the grit, soil and dirt removed keeps your rug fibers from wearing out before their time.
Pre-conditioning and Spotting
All spots are pre-treated to maximize stain removal potential. Fringes are pre-treated for top cleaning effectiveness.
Scrubbing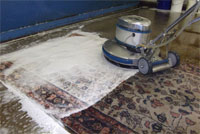 The rug is gently scrubbed using a rotary brush and special shampoo that's ph-balanced to protect natural fibers while substantially increasing cleaning effectiveness.
Mor Roll-A-Jet Flat Bed Rug Washer
Your rug is carefully put through our Mor Roll-A-Jet flatbed area rug washer. The machine performs 4 important steps:
A specially-formulated detergent solution is applied under pressure.
Soft rubber rollers gently agitate the solid out of the rug
A cold water rinse follows
Excess water is removed as the final step. The rug then goes through two large rollers.
Controlled Drying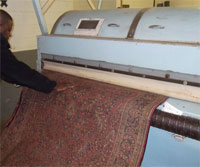 Our state of the art heat and humidity controlled drying tower dries your rug, allowing rapid and controlled drying to preserve strength and longevity of your rug.
Final Inspection
Our expertly-trained inspector makes sure stringent cleaning standards have been attained. In the unlikely event any  issues are discovered, the rug is returned to be re-cleaned through the same process.
Why choose us for rug cleaning in Columbus and Dublin?
We're professional, local and we understand how to deliver the best cleaning of your rugs. Give us a try and you'll find that the results speak volumes.
Why we're different
Because we have one central plant fed by five stores and over 2,500 home delivery clients, we have enough work to classify the garments and allow staff members to focus on the care of specific garments, fabrics, and even shades and colors. For instance we have a trousers finisher that specifically handles just the dark shades of trousers. We have two specialists handling only blouses and suit coats. We have over 60 staff members and they are experts and have more experience in their specific area in a week than some technicians get in year.
We believe you have come to us to make an investment in your image. Our image is a reflection of you. Trust us with your fine garments before the big meeting or the first date. Our experts will make sure you look your best!
Dublin Cleaners is proud to have made significant investments in equipment that helps us provide environmentally-responsible cleaning without compromising quality.