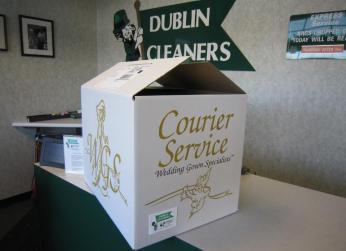 Attention brides, good news!
Dublin Cleaners now offers a statewide Wedding Gown Courier Service for wedding gown cleaning and preservation with no extra charge for shipping either to us or back to you! Contact [email protected] for further details and price information.
What people are saying
"The Dublin Cleaners Crew!!!
I just wanted to say how much I appreciated all of the hard work you put into preserving my wedding gown. You can tell that you take great pride in your work. My dress is perfect in every way and will be a cherished keepsake for years to come. The convenience of being able to mail my dress in was even better. The customer service for the mail in situation was superb. I was notified on all aspects of the process and when to expect my dress to be shipped to my home. I did tons of research trying to select the right place to send my dress and found you to be the best choice. I'll be sure to recommend all of my friends your way. Thanks for taking such great care of the most important dress I will ever wear!"
-Meghan Steadman
Canton, Ohio
Our response:
First off, congratulations on getting married! And thank you for taking the time to leave us feedback. We understand how important a wedding gown is to every bride and we put a lot of effort into preserving each one. It's very rewarding for us to hear that you are happy with the dress and with our process. We truly value your business.
Interested in this service?
Contact [email protected] for further details and price information.
Why are we different?
Because we have one central plant fed by five stores and over 2,500 home delivery clients, we have enough work to classify the garments and allow staff members to focus on the care of specific garments, fabrics, and even shades and colors. For instance we have a trousers finisher that specifically handles just the dark shades of trousers. We have two specialists handling only blouses and suit coats. We have over 60 staff members and they are experts and have more experience in their specific area in a week than some technicians get in year.
We believe you have come to us to make an investment in your image. Our image is a reflection of you. Trust us with your fine garments before the big meeting or the first date. Our experts will make sure you look your best!
Dublin Cleaners is proud to have made significant investments in equipment that helps us provide environmentally-responsible cleaning without compromising quality.