Bedding & Pillow Cleaning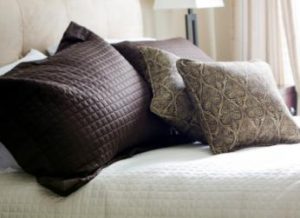 Did you know that your pillows should be cleaned every six months? Over time they can accumulate a lot of skin, dust mites, and other things.
That definitely takes the enjoyment out of using a pillow. Dublin Cleaners cleans bed pillows, couch pillows and even outdoor pillows. Each type of pillow be it feather, synthetic or cotton, takes a specific type of cleaning process. Prolong your pillows life and ensure a healthy living environment for you and your family. Bed pillows even include a brand new ticking (cover) so the body oils are gone for sure!
With the right care your bedding can be soft and comfortable and last you a long time. Colored, white, thread count and fabric content are all considerations when choosing how to clean your bedding. Dublin Cleaners has the expertise to choose the right process for your most comfortable and "lived in" items. Not only that, our professional machines can accommodate even the largest comforters and sheets. Also see our unique process for sleeping bag cleaning!
Why we're different
Because we have one central plant fed by five stores and over 2,500 home delivery clients, we have enough work to classify the garments and allow staff members to focus on the care of specific garments, fabrics, and even shades and colors. For instance we have a trousers finisher that specifically handles just the dark shades of trousers. We have two specialists handling only blouses and suit coats. We have over 60 staff members and they are experts and have more experience in their specific area in a week than some technicians get in year.
We believe you have come to us to make an investment in your image. Our image is a reflection of you. Trust us with your fine garments before the big meeting or the first date. Our experts will make sure you look your best!
Dublin Cleaners is proud to have made significant investments in equipment that helps us provide environmentally-responsible cleaning without compromising quality.