Dry Cleaning Services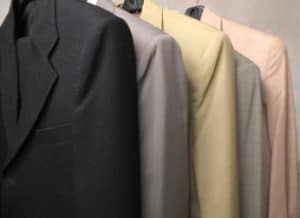 Dublin Cleaners has long been known as a superior garment care specialist for dry cleaning and laundry services, in Central Ohio. We offer the best service, flexible scheduling, and tremendous value for your wardrobe.
Designer and fashionable clothing bear this care label which describes fabrics that may shrink, change colors or lose their shape if washed in water. In order to care for these garments the best way possible, we use our state of the art, Eco-Friendly dry cleaning machines. Have you ever wondered what exactly dry cleaning is? It is a cleaning process for clothing and textiles using a chemical solvent rather than water. We are experienced in dry cleaning services and expertly caring for your clothing. For pricing information visit our basic price list page.
WHY WE'RE DIFFERENT
Because we have one central plant fed by five stores and over 2,500 home delivery clients, we have enough work to classify the garments and allow staff members to focus on the care of specific garments, fabrics, and even shades and colors. For instance we have a trousers finisher that specifically handles just the dark shades of trousers. We have two specialists handling only blouses and suit coats. We have over 60 staff members and they are experts and have more experience in their specific area in a week than some technicians get in year.
We believe you have come to us to make an investment in your image. Our image is a reflection of you. Trust us with your fine garments. Our experts will make sure you look your best!
Dublin Cleaners is proud to have made significant investments in equipment that helps us provide environmentally-responsible cleaning without compromising quality.