Drapery Cleaning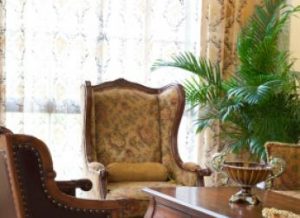 Over time drapery can become a little wilted. Without regular cleaning, hidden dust, food and perfume smells can permeate and become trapped in the fabric and on surfaces.
Keep your drapery looking as new as the first time you put them up with our drapery cleaning service, by making sure they get cleaned regularly. See our rug cleaning service as well and keep everything new like the day you bought it!
Follow these easy instructions for take down and re-hang.
Step 1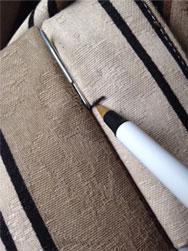 Take down and rehanging drapes with hooks (pins).
Hooks can snag, be careful! Start at the middle of the rod and remove toward the edge of the drape.
Remove all pins and mark with an indelible black pen at the point of entry (see picture) to keep the same length at the floor.
Tip: During the process take pictures with your cell phone
Step 2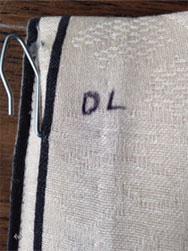 Mark on the back top of the drape the the location with an indelible black pen on each drape as you take them down.
For example: LR (Living Room Right) DRL (Dining Room Left). If there is more than one window in each room then use a locator note in the indelible ink with your own indicator (west wall, behind couch etc.)
Tip: Tie backs may have pins also
Step 3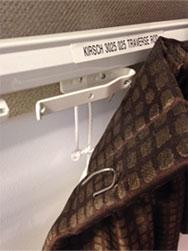 Re-hanging your cleaned draperies:
Put pins back on each panel as you hang them.
Start in the center of the drape rod and put the first two pins in the slider (see picture)
Don't skip eyelet, that may cause the slider to jam.
Tip: Attention to detail when taking down drapes will make the re-hang easier.
Why we're different
Because we have one central plant fed by five stores and over 2,500 home delivery clients, we have enough work to classify the garments and allow staff members to focus on the care of specific garments, fabrics, and even shades and colors. For instance we have a trousers finisher that specifically handles just the dark shades of trousers. We have two specialists handling only blouses and suit coats. We have over 60 staff members and they are experts and have more experience in their specific area in a week than some technicians get in year.
We believe you have come to us to make an investment in your image. Our image is a reflection of you. Trust us with your fine garments before the big meeting or the first date. Our experts will make sure you look your best!
Dublin Cleaners is proud to have made significant investments in equipment that helps us provide environmentally-responsible cleaning without compromising quality.