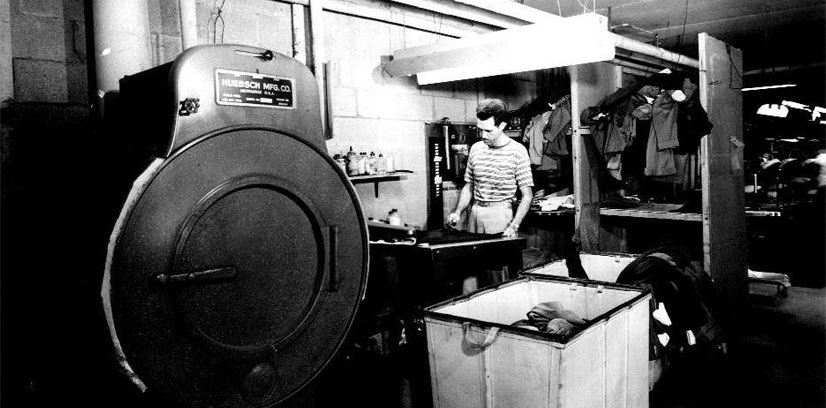 1934 - Bernard Butler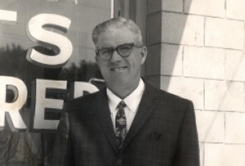 Bernie founded Hudson Cleaners in 1934 when his side business of taking in dry cleaning began to make more money than being a barber.
1934 - Orignal Plant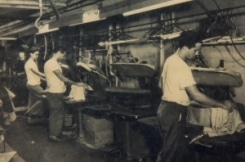 The corner of Hudson and Cleveland Ave. was the site of the main plant for almost 50 years.
1934 - Delivery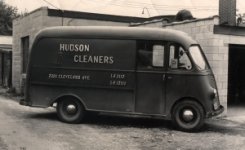 An early influence on the current delivery business, Hudson Cleaners also offered free delivery service to northeast Columbus.
1981 - Discovery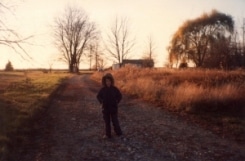 Brian Butler helps scout out the new plant location in 1981. We're the first on the Southeast corner of Sawmill and I-270.
1982 - Ground Breaking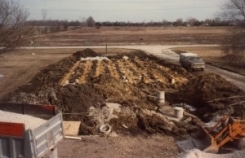 The footers are dug and poured. We are right on schedule to be open in March 1982!
1983 - Grand Opening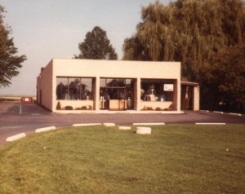 We're open for business. Right from the beginning volume grows as business pours in……
1985 - Working Hard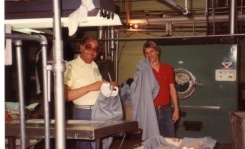 Jim and Jimmy Jr. keep the machines running all day long. Everywhere you look this is a 'family' business.
1986 - Getting Involved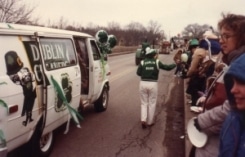 In every way, Dubin Cleaners and the employees participate in community events. Remember the three lane bridge in old Dublin? More about us in the community.
1987 - Giving Back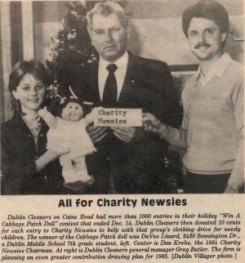 Philanthropy becomes a large part of the company mission. We give back to Dublin and N.W. Columbus, the community responsible for our success.
1990 - Our First Year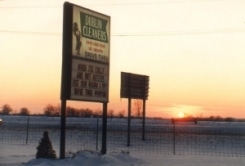 The sun sets on our successful first year. Bob Evans, Bank One, and the Dublin AMC Theatre are still a long time away from developing Tuller Rd.
1992 - New Locations
In order to better serve NW Columbus we expand to Linworth, S. Dubin, and many more.
1992 - More Space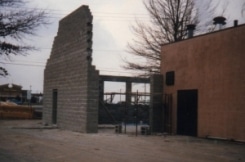 The '80s and '90s saw more than five additions and renovations to our plant.
1992 - New Equipment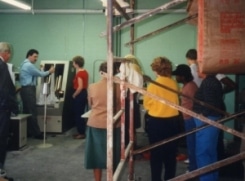 Before the building is finished, employees train on new state of the art laundry equipment. This is the first of many new equipment upgrades.
1993 - Prestigious Aware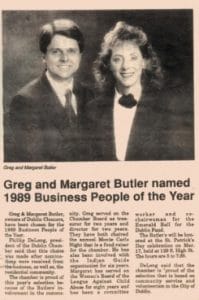 Dublin recognizes Margaret and Greg as Business Persons of the Year. They are recognized with this great honor for growing the business leaps and bounds along with strong community support.
1994 - New Corporate Offices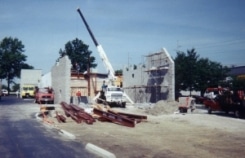 In 1994 growth caused another construction project. New office suites, board room, and major additions to the delivery receiving area make much more space at the plant.
1995 - Delivery Business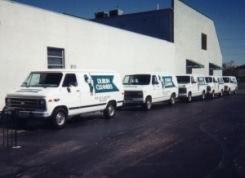 Another investment pays off with great vision. Offering free home and office delivery fills trucks on six routes a week.
1996 - Progress So Far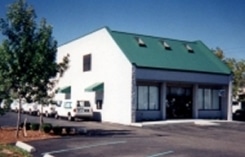 …for now at least. This is the current look of our corporate buiding, at least until we outgrow it again.
Visit us a location nearest you or submit a business inquiry online.
I live out of state and brought my dress back to Ohio to get cleaned at Dublin Cleaners. I was very impressed with their ability to get a red wine stain out of a white dress! I had the dress cleaned twice at another cleaners in NC and they told me the stain would not come out. I talked to Dublin Cleaners and they said it was not a problem to get out! I was even more surprised when I saw the delivery guy dropping the dress off at my parent's house and taking his time to pet our cat and fill up her water dish on the front porch, using his bottled water from the van. It was a hot day and he went above and beyond in my eyes. This cleaners is definitely worth the money and they know their business!
After the bridal salon referred Dublin Cleaners to handle my daughter's dress, we were thrilled with the results. We figured that we'd bring in a few suits the next week. They came back looking incredible. The pressing was expert. The coats were on special hangers that kept the shoulders' shape, and with the sleeves stuffed with tissue. We've been using a lower price cleaners, but now we see the difference, and its worth it. Bring your good clothing here!
I bought a bridal gown off the rack that was pure silk, and while I got a great deal on it, it needed a deep cleaning because of many previous try-ons. Secondly, I needed it very quickly. When I called Dublin cleaners and told them how soon I needed my gown, and that it was 100% silk, they immediately said they would do what it takes to get my dress cleaned. Brian postponed an out-of-town trip to personally take care of cleaning my gown, and had it perfect and ready within 2 days! Dublin Cleaners is prompt, professional and helped make my wedding day perfect.
I wanted to thank you so much for taking such good care of my wedding dress. I picked it up earlier this week and have it stored safely at home! It looked great and I appreciate you wrapping the rest of the items. The helpful note was much appreciated too!
It is obvious that you take great pride in your work with bridal gowns and that is exactly what I was looking for! I will definitely be sending others your way if they need to have their dress preserved.
Thanks again Margaret. I hope you enjoy the holidays with your family and friends!
Kacie Tekle
Happy Customer
I just wanted to say how much I appreciated all of the hard work you put into preserving my wedding gown. You can tell that you take great pride in your work. My dress is perfect in every way and will be a cherished keepsake for years to come. The convenience of being able to mail my dress in was even better. The customer service for the mail in situation was superb. I was notified on all aspects of the process and when to expect my dress to be shipped to my home. I did tons of research trying to select the right place to send my dress and found you to be the best choice. I'll be sure to recommend all of my friends your way. Thanks for taking such great care of the most important dress I will ever wear!
Meghan Steadman
Happy Customer
I love the gown! Thank you for all of your care and constant contact to help me rest easy while my mother's dress was in your care. Your little note was so kind too. You are very thoughtful and I am privileged to have had you be a part of this special event in my life! I'm thrilled to be able to wear my mother's wedding dress. So thank you and your husband for what you do to help brides preserve and restore the dress that marks such an incredible day in their life!
May the Lord bless you, your family and your business ever so abundantly!
Brittany from Youngstown, OH
Happy Customer
Loved the website, email notifications, customer service and quality of work done! I was even offered a water when I walked out, can't beat that!

Brian B.
Satisfied Customer
Your service was prompt and thorough, just as I wanted. I was additionally, impressed that you removed the delicate buttons from my wife's two sweaters before you dry cleaned them – and sewed them back on when finished – all without asking.

Joe P.
Satisfied Customer