Meet Our Free Pickup & Delivery Drivers
Welcome to Dublin Cleaners! Dublin Cleaners started pickup & delivery service dating back to 1934. We're proud of over 80 years of servicing customers with free home and office delivery.
Dublin Cleaners currently services approximately 3,000 weekly customers with free pickup & delivery. There are currently 5 trucks that service the Hilliard, Dublin, Powell, Worthington, Westerville, Lewis Center, Delaware, New Albany, Gahanna, Downtown Columbus, Bexley, Grandview, Short North and Upper Arlington.
You can save time and convenience with our pick up & delivery of clothes to your home or office twice a week. Dublin Cleaners also services local police precincts and high school band and choir uniforms.
Furthermore, Dublin Cleaners is the only cleaners to be trusted to clean the Ohio State University marching band uniforms weekly between games and deliver them on time week in and week out.
Caleb Piatt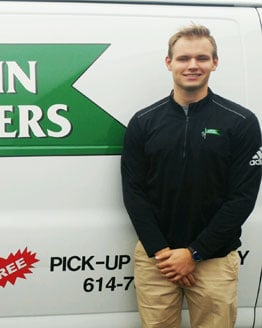 Hi! My name is Caleb Piatt and I have the opportunity to serve routes #1 and #6. I'm proud to serve the cities of Dublin, Upper Arlington, and Powell. I enjoy playing the guitar, drums, and baseball as some of my hobbies. I currently attend Victor College in Marion, Ohio and will be graduating in 2017. I am impressed with the quality and integrity of my company, and I am always glad to explain the in's and out's of the Dublin experience. If you see me around your neighborhood, don't hesitate to say hello!
Julian Garcia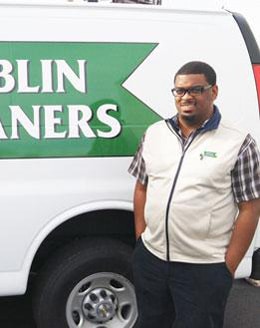 Hello, my name is Julian Garcia.  I joined the great team at Dublin Cleaners in the fall of 2015.  I cover routes 11 & 12. He serves all of Westerville and North New Albany Mon/Thurs and All of New Albany, Blacklick Tues/Fri.  In my free time, I spend most of it with my fiancée and two sons.  I've done sales and customer service the past five years.  More than anything, I understand people's wants and needs.  I'll be sure to greet you when I am in your neighborhood!
Tyler Tandal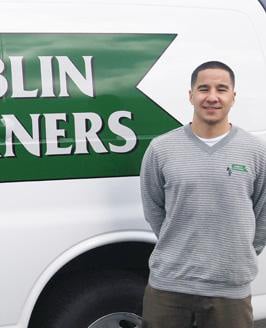 Hello my name is Tyler Tandal. I am a substitute driver and you can see me in any of the Dublin Cleaners Vans. Before Dublin Cleaners I recently moved here from the beautiful islands of Hawaii. My wife and I got married on the fabled North Shore 4 years ago and were lucky enough to have spent 2015 in paradise. I'm a huge sports fan and enjoy playing golf, softball, and volleyball. If you see me in the neighborhood be sure to stop and say hello or call. I'm always available for your dry cleaning needs!
Candice Rose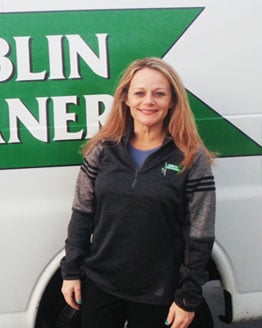 Hello, my name is Candice Rose. I am a route sales developer for Route 9 on Mon/Thurs. As well as covering Route 10 on Tues/Fri. Those territories are around Tartan Fields, Jerome Village, Bexley, Downtown Columbus and Short North. I am a Dublin resident and mother to 2 amazing little girls. When I'm not covering my routes I enjoy spending time with my family, being by the water and working on my golf game. Boy does my golf game need improvement!! Our free pickup & delivery service will provide what most important to you, saving you time! I look forward to meeting you so when you see me, stop me and I'll be happy to explain our benefits we offer with our service!
Steve Malone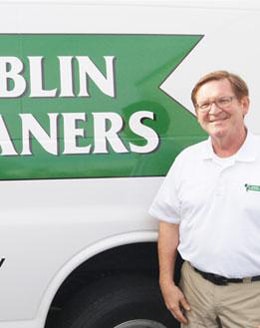 Hello, my name is Steve Malone. I am a Hilliard resident and I have been married to my wife, Debbie for many, many years!  Our dogs, Hershey and Jimmie rule the roost.  I serve Dublin Cleaners customers and prospects on Route 5 in Upper Arlington and Route 8 which covers Lewis Center and parts of the south Delaware area. Customer Service and a friendly, can-do attitude are goals that I pursue every day for my customers and co-workers. Stop and say hello when you see me in your neighborhood because I love meeting great new people in Upper Arlington and Lewis Center. I'll be happy to explain the benefits of the services we provide and hopefully we can earn your trust with your clothing and household dry cleaning needs. It is a pleasure to serve you!
JOSH BURGESS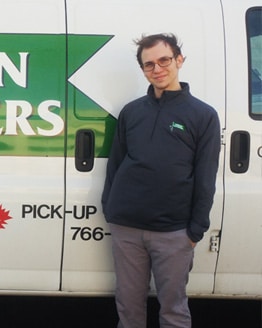 Hello, my name is Josh Burgess. I cover routes 3&4. I have lived in the Hilliard area for about 10 years. I really enjoy learning new things and taking on new challenges. When you don't see me running the routes I'm usually either playing one of the many instruments I enjoy, or at the skate park, feeling the breeze in what little hair I have left. In my free time I enjoy bowling, drawing, studying physics and traveling around with my soon to be fiancé. If you see me in the neighborhoods please stop and say hello, I'm always glad to have a nice chat about whatever.