Shirt & Blouse Cleaning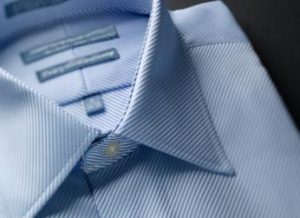 With Dublin Cleaners cleaning process we guarantee your dress shirts and blouses will come back to you the whitest of whites and with the most vivid colors.
Our attention to the finished detailing of crisp cuffs and collars will convey the professional look you want. Let us help you keep your favorite shirts in your closet longer. Looking to clean a casual every day or golf shirt? We make sure you look as good on the golf course as you do at work. Also see our tailoring and alterations service.
Why we're different
Because we have one central plant fed by five stores and over 2,500 home delivery clients, we have enough work to classify the garments and allow staff members to focus on the care of specific garments, fabrics, and even shades and colors. For instance we have a trousers finisher that specifically handles just the dark shades of trousers. We have two specialists handling only blouses and suit coats. We have over 60 staff members and they are experts and have more experience in their specific area in a week than some technicians get in year.
We believe you have come to us to make an investment in your image. Our image is a reflection of you. Trust us with your fine garments before the big meeting or the first date. Our experts will make sure you look your best!
Dublin Cleaners is proud to have made significant investments in equipment that helps us provide environmentally-responsible cleaning without compromising quality.