Handbags and Fine Luggage Cleaning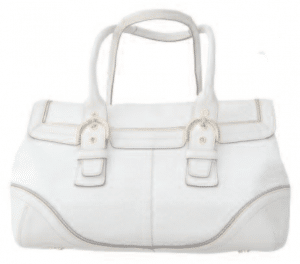 We know how much you invested in your favorite handbag, so Pulito Purse Service™ created the tooling, techniques & procedures needed to maintain & even restore its original appearance. Pulito Purse Service™ cleans & details purses, handbags, travel bags, wallets & even luggage, to restore their original showroom-fresh look & feel. Full service repair is also available through Factotum Expert Leather Repair™ service. Let Dublin's Pulito Purse Service™ care for your purse next time it needs a face lift!
Experience
Pulito Purse Service™ is North America's largest & most experienced purse cleaner. Have you forgotten what that special handbag looked like the day you brought it home? They can help you remember! Below are some of the designer labels they work with regularly
Burberry
Chanel
Christian Dior
Coach
Eric Javits
Gucci
Hermes
Isabella Fiore
Juicy Couture
Loro Piana
Louis Vuitton
Nicole Miller
Prada
Yves Saint Laurent
Cleaning Procedure
Professional purse cleaning is performed entirely by hand & requires skill and experience. Cleaning techniques vary depending on the construction material, type & extent of soil. A typical shoe repair company is not equipped to address the varied materials & types of soil found on most purses. Purse cleaning procedures may include the following:
Individual stain removal
Hand clean outer surfaces
Hand clean lining
Hand clean strap & hardware
Dye rejuvenation
Steam finishing
Stain repellent (if desired)
Package (breathable purse storage bag included with every order)
Restoration
Restoration of a vintage or damaged purse or luggage may be preferred to replacement. Restoration techniques include extensive cleaning, dying, stitching, & material or hardware replacement.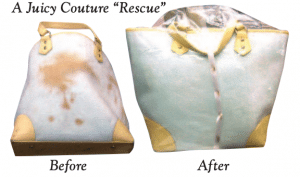 It's Easy!
Bring your purse in to us or include it with your delivery cleaning order. We'll take care of careful packaging & shipping. If requested, we will provide a cost estimate before the purse is cleaned.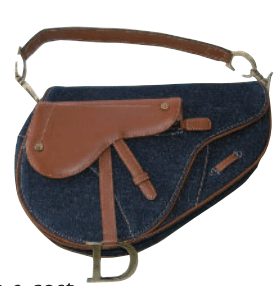 Price Considerations
Pricing variables include size, construction material, whether there are trims of contrasting materials, how soiled it is, and whether it requires repairs. See the price schedule for guidelines on the cost for various types of items.
Purse Care & Storage Tips
Never store your purses in the bottom of a closet. Leather is hygroscopic & will absorb the excess moisture (especially on slab floors), which causes mold & mildew. Avoid storing purses in plastic bags. Use breathable fabric bags to protect from dust & control moisture damage. A Pulito Purse Service custom manufactured storage bag is provided with every cleaned purse.
Why we're different
Because we have one central plant fed by five stores and over 2,500 home delivery clients, we have enough work to classify the garments and allow staff members to focus on the care of specific garments, fabrics, and even shades and colors. For instance we have a trousers finisher that specifically handles just the dark shades of trousers. We have two specialists handling only blouses and suit coats. We have over 60 staff members and they are experts and have more experience in their specific area in a week than some technicians get in year.
We believe you have come to us to make an investment in your image. Our image is a reflection of you. Trust us with your fine garments before the big meeting or the first date. Our experts will make sure you look your best!
Dublin Cleaners is proud to have made significant investments in equipment that helps us provide environmentally-responsible cleaning without compromising quality.